Best Wedding Lawn in Lucknow
Intertwined With Perfection And Elegance
We give our most ideal to serve you with very productive faultless administration to make your occasion exceptional and life-changing. Our good skill staff will help you to arrange your occasion sans preparation till end. So when you hand over the obligation of your wedding occasion to us, then you don't have to stress over whatever else. We esteem our clients, their affiliation and relationship too. Your grin and fulfillment is the thing that we search for. Quick, effective and great administrations are our maxim. Flexibility of wedding Lawn in Lucknow isn't limited to the size of the event
Wedding
Experience personalized services and hospitality to celebrate glorious weddings. Green field's gardens are an ideal venue for wedding functions. With an ideal setting for weddings in our wedding lawn we provide wedding Lawn solution by truly understanding the importance of details and finishing touches. Hence we give our 100% to render optimum quality wedding Lawn Services.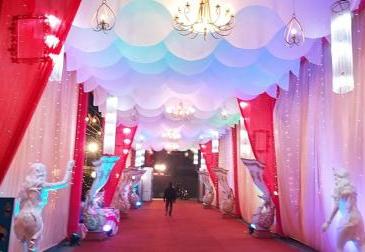 Theme Wedding
Whether you're a style maven or style-challenged, our Wedding Theme section will help you narrow down your wedding look and find genius decor ideas to put it all together. Not sure where to begin? Envision a few wedding themes that suit your personal style. Also think colors, patterns, and symbols that are meaningful to you: A pretty patterned pillow can inform an entire wedding theme.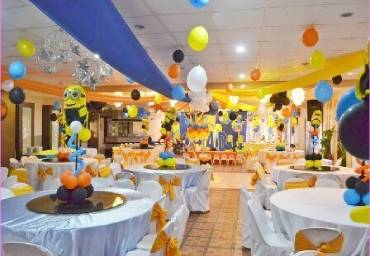 Birthday Parties
Throw your child the best party ever at Green field's gardens your kids and their friends will experience the WOW of jumping, flying and flipping on our wall-to-wall trampoline courts. Give your child the best gift of all – pure joy. Throwing a great party can get complicated, but we make it easy. Just bring the kids and we do the rest. Create the perfect birthday party for children's. We have birthday decorations for adult birthday parties and milestone birthdays.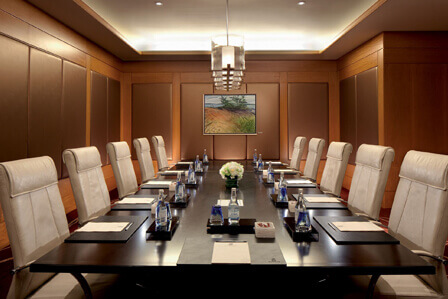 Conferences
The Lawn offers complete privacy and is fully equipped to host any corporate function, from a small Board Meeting through to a major conference, training day or corporate event (including secret prototypes or public product launches). The Lawn has ample capacity to host break–out meetings and catering alongside the main conference. A dedicated team will provide friendly, professional planning and support for your business event.
Official Get Together
The atmosphere is serene and the venue is away from the hustle & bustle of the city making ceremonies and official get together a quiet, memorable affair. The lawn area has two sections for holding a capacity for any event or parties. They host outdoor events that are designed keeping the taste of the client in mind. Special services like catering, decor, sound system are offered.


Design your perfect occasion with the best wedding lawn in Lucknow
This lawn is also flexible with décor and arrangement setting. As it's an open garden it is highly adaptable to different types of themes and decoration. This wedding lawn is easily adjustable with themes like Environment-friendly theme, Peacock wedding theme, Fairytale wedding theme, Bollywood wedding themes, Rajasthani theme and many more. As this lawn is an open garden our clients can opt for decoration which they want rather than going for pre-arranged decoration in the parties, which is a huge difference between indoor event and outdoor event. While organizing their events at the best wedding lawn in Lucknow our customers doesn't have to worry about their budget issues as we deal in small, medium to heavy budgets which depends on the level of facilities which our customers are availing.
Wedding lawn in Rajajipuram Lucknow is well versed with technicalities. Venue vendors put their best efforts in rendering a well facilitated venue to our customers. This wedding lawn is enriched with proper lighting facility either its natural lighting or artificial one. Apart from lighting our other facilities are also up to the mark.
Our customers who are travelling to us from distant areas don't have to worry for transportation as this area is very well facilitated with public transport. Apart from this, for facilitating our customers to our best, best wedding lawn in Lucknow also provides them shuttling facility.
Venue vendors on this lawn are well mannered and put their best efforts in facilitating and satisfying our customers. The environment of this wedding lawn is refreshing and peaceful, helping our customers to enjoy their event with privacy and away from outside noisy environment. So do come to Greenfields Garden and enjoy your event.
Wedding Lawn in Rajajipuram Lucknow
Lasting impression that you love
Wedding Venue In Lucknow
There are plenty of important ceremonies in one's life span, but it is your wedding ceremony, which is the most important of the lot. The unique thing regarding a wedding is that, the ceremony comes only once in a life time. Hence, there will always be a desire to celebrate the wedding in a unique manner with best wedding venue in Lucknow. One should note that after you go through the wedding ceremony formalities, there will be a lot of changes in your life. If all along you were leading the life of a carefree bachelor, the ceremony brings in responsibilities.
Lawn In Lucknow
An outside wedding ceremony and gathering is a desire among numerous couples for their special day to be celebrated out in the open. Be it at a beach, garden, amidst the hills, by a lake and many other options, there is something so effortlessly romantic about an outdoor wedding. When it comes to lawn decoration for your wedding day, the natural elements serve as a natural decor. Yet there are many decor ideas for outdoor spaces to further enhance the wedding decoration ideas for that magical touch. Get in touch with the top dealers for best wedding lawns in Lucknow to ensure great decor ideas for a lawn or any kind of outdoor wedding.
Decorations
Lasting impression that you love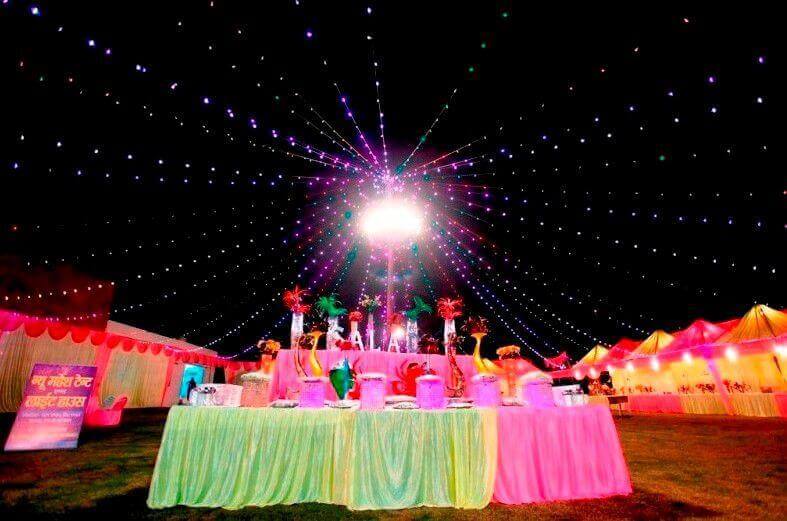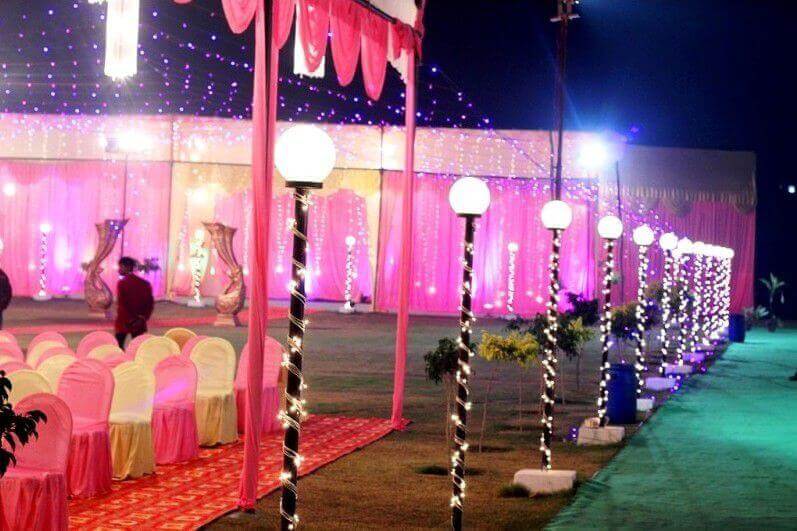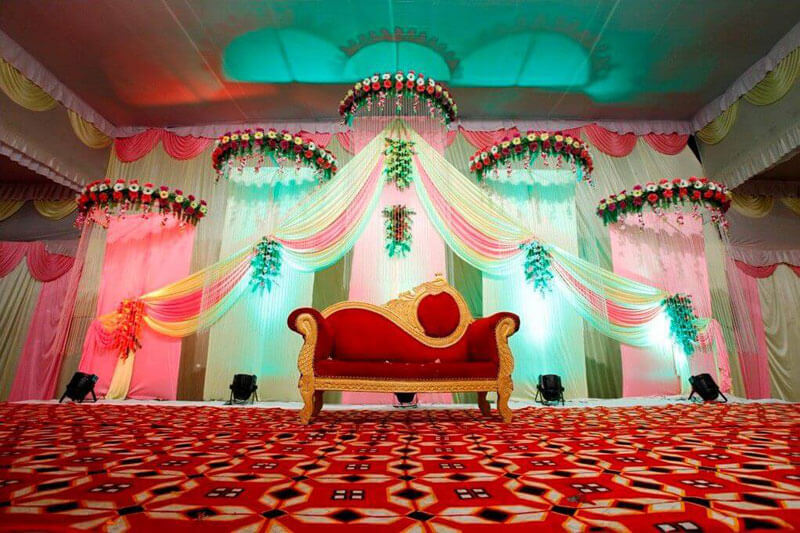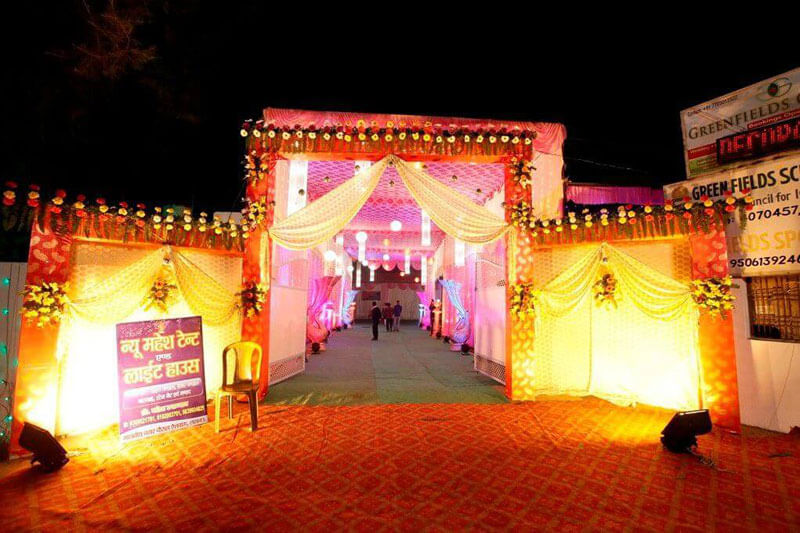 Theme Wedding
Reflects your passion