Top 6 best wedding themes 2022 for your wedding:
22 Jan 2022
You want to make the most of your wedding day because it is the most significant day of your life, which is why theme weddings are so popular these days! What would your Indian wedding's theme be? A fairy-tale wedding, a beach wedding, or a nature-inspired wedding are all possibilities.
We've put together a list of the most popular wedding themes that you'll want to keep for your wedding.
Cake Arches | Wedding Themes 2022
Cake tables are becoming increasingly popular these days, thanks to personalized cake hoops and cake arches! These unabashedly excessive cake displays create great center pieces in any dining room, whether covered with fresh flowers, dried foliage, or left plain for a modern, minimalist vibe, and we can't wait to see more of them in actual weddings in 2022.
Dreamy Wedding Theme | Wedding Themes 2022
Imagine perfect weather, magnificent floral arrangements, and the venue being turned into something out of a fairy tale for your big day: a magical wedding theme. Choose this gorgeous theme for a dream wedding that will fulfil all of your wishes.
Vintage-Inspired Engagement Rings
Still, looking for that perfect sparkler or waiting for it to arrive? As couples become more emotional for the style of their parents' and grandparents' eras and hunt for more sustainable ring options, heirloom rings and vintage-inspired designs will be at the top of everyone's wish list in 2022. Vintage and vintage-look engagement rings, with their antique European cuts and vibrant jewels, are timeless in their beauty, and we adore the concept of tying old and new love stories together via jewellery.
Royal Rajasthani Theme | Wedding Themes 2022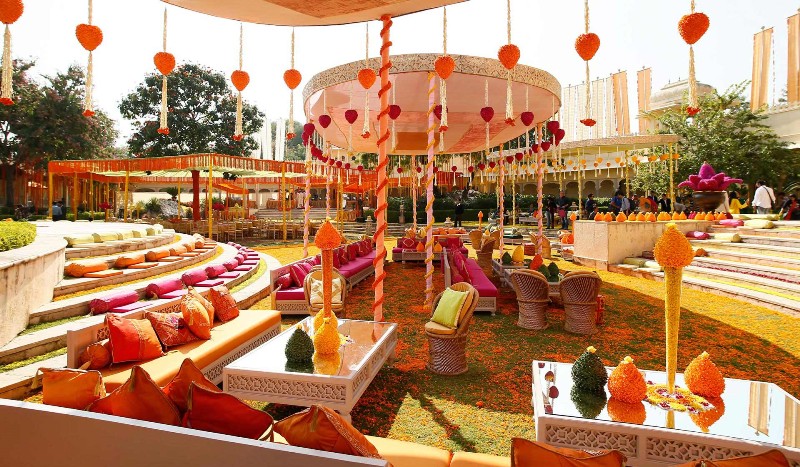 This is my particular favorite, also known as the 'Rajwada Wedding Theme.' Use a colourful folksy decor with lots of bandhani, clay pots, vases, wind chimes, or royal art pieces to add a little 'Apno Rajasthani' touch to your wedding. You can also have traditional Rajasthani's folk dances performed for the visitors' enjoyment. Bright fireworks will brighten the ambiance and add a great royal touch to your wedding.
With the wedding industry facing a massive backlog of weddings due to Covid-related postponements, this is one new trend we can't overlook! While weekday weddings involve a bit more effort from your guests in terms of scheduling time off work, many 2020 and 2021 couples were happy to reap the rewards, which could include lower prices and increased venue and supplier availability. Although scheduling your wedding on a Monday, Tuesday, Wednesday, or Thursday may be less convenient for your guests, this becomes less of an issue if your guest list is short!
Beach Wedding Theme | Wedding Themes 2022
Do you want a themed wedding plus a family holiday that isn't too expensive? Choose the perfect spot for your destination beach wedding, which has become one of the most popular Indian wedding themes. This theme is perfect for hitting the beach if you're having a summer wedding. The bride and groom can wear a summery floral dress on their wedding day.
CONCLUSION:
These were some ideas to select the wedding theme in 2022.